Build, track, customize, and manage your training with Volt's industry leading software.
ESSENTIALS
---
Fully re-designed coach platform

General strength and fitness programs

Training app with Cortex® Smart Sets

Printable workouts

Analytics and Accountability features

Unlimited Coach Accounts
ENHANCED
Customizable and sport-specific.
---
Everything in Essentials, plus:

Sport-specific training programs

Full training customization tools

Volt Chat, in-app group messaging
PREMIUM
Take your training to the next level.
---
Everything in Enhanced, plus:

Build training programs from scratch

Create and track custom metrics

NCAA compliant

Speed and conditioning plans

Access to Certified Strength Coach Consultant ($1,200 value)
Full school and PE discounts available for all packages. Please schedule a demo to learn more!
TESTIMONIALS FROM VOLT COACHES
Volt has made all of our lives much easier and gives us more time to spend directly with the athletes.
Volt is the best investment I feel the school has ever made for athletics and the athletes' development.
We love our Volt workouts! We can do them anywhere and stay on track with our training together.
A COMPLETE STRENGTH TRAINING SYSTEM
SPEND LESS TIME PROGRAMING

Create and customize full-year, periodized training programs in minutes. No more Excel sheets at the dinner table.
FASTER ATHLETES, FEWER INJURIES

Volt teams report significant strength gains in the first 2 months of using Volt, and fewer injuries year over year.
CUSTOMIZE EVERYTHING

Edit your training as much (or as little) as you like down to each individual set and rep.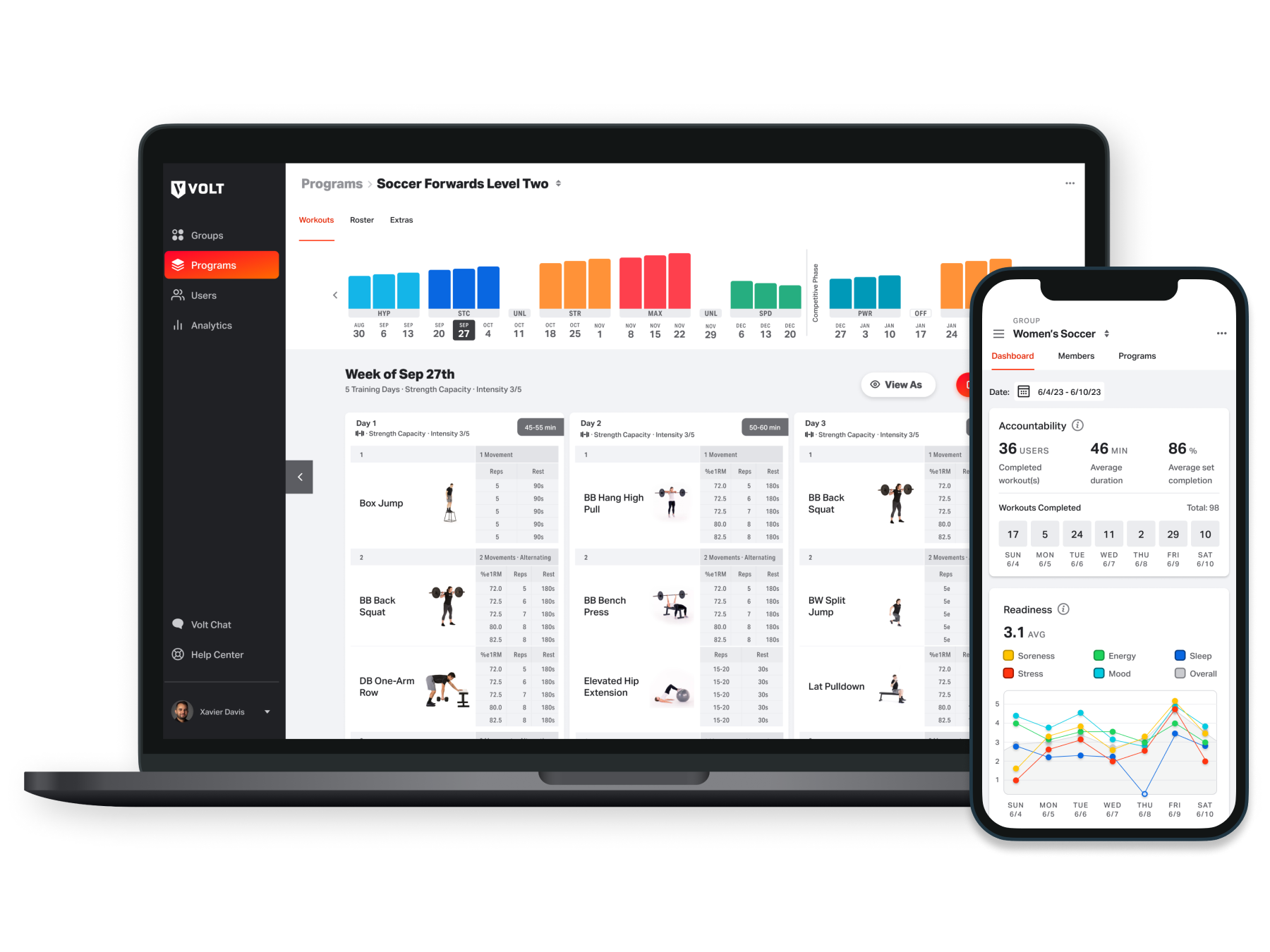 Pricing differs between group types, and needs. Please visit the following pages for more information, or fill out a form to contact our sales team to discuss needs and pricing for your group.
Corporate Wellness

Military

Firefighters

Police
Keep your employees active, and healthy
Designed for the evolving workplace, Volt's training app delivers personalized workout plans to every employee, no matter where they are training.
Maintain operational readiness
Volt helps servicemembers build strength and durability by delivering structured, personalized workout plans to perform at their highest level.
Meet the demands of your job
Volt delivers personalized and safe fitness training, so firefighters can manage stress, reduce risk of injury, and improve fireground performance.
Stay safe and injury free on the ground
Volt provides safe and effective training, so officers can achieve their fitness goals and be service-ready at all times.
FREQUENTLY ASKED QUESTIONS
Will my pricing differ from the estimate above?
Pricing may differ from the initial estimate provided. Our sales team will work closely with you to discuss your specific needs and budget requirements. They will help you find the best pricing plan that suits your situation, ensuring that you get the most value for your investment.
We already have a strength coach, why do we need Volt?
Volt is designed to complement and enhance the work of strength coaches and trainers. By utilizing Volt, your coaches can access valuable tools and resources that help them make the most of their time with your athletes. This can lead to improved training efficiency, better results, and ultimately, a more successful athletic program.
I am a strength coach or trainer. Why do I need Volt?
Volt is designed to complement and enhance the work of strength coaches and trainers. By utilizing Volt, you can access valuable organization, planning, and communication tools to help make the most of your time with your athletes. This can lead to improved training efficiency, better results, and ultimately, a more successful athletic program.
Will this be difficult to install and implement?
No, the installation and implementation process for Volt is straightforward and user-friendly. Our support team will be there to guide you every step of the way. They will schedule a time that works for you to help you get set up, provide any necessary training, and answer any questions you may have along the way, or in the future.
What can I expect in a demo?
During our brief conversation, we'll discuss your current training situation, weight room setup, and what you're looking for from your training software. We'll also provide a live demonstration of our new platform, customized to fit your needs. We'll make sure to answer all your questions to guarantee that you have all the information you need. No commitment necessary!
I am not a sports team, where can I find pricing for my workplace, or organization?
Our pricing varies depending on the type of group and their specific needs. If you're not part of a sports team, check out the "Not A Sports Team?" section on this page for more information about what we offer for different groups.
I am an individual athlete, should I schedule a demo?
If you're an individual athlete looking for a solution tailored to your needs, we recommend visiting our website's page dedicated to individual athletes instead of scheduling a demo. There, you'll find more information and resources specifically designed to help you reach your athletic goals.